Virtual X:
The essentials of leading and succeeding digitally.


Virtual Selling and Sales Management
Transformation from In-Person to Online Selling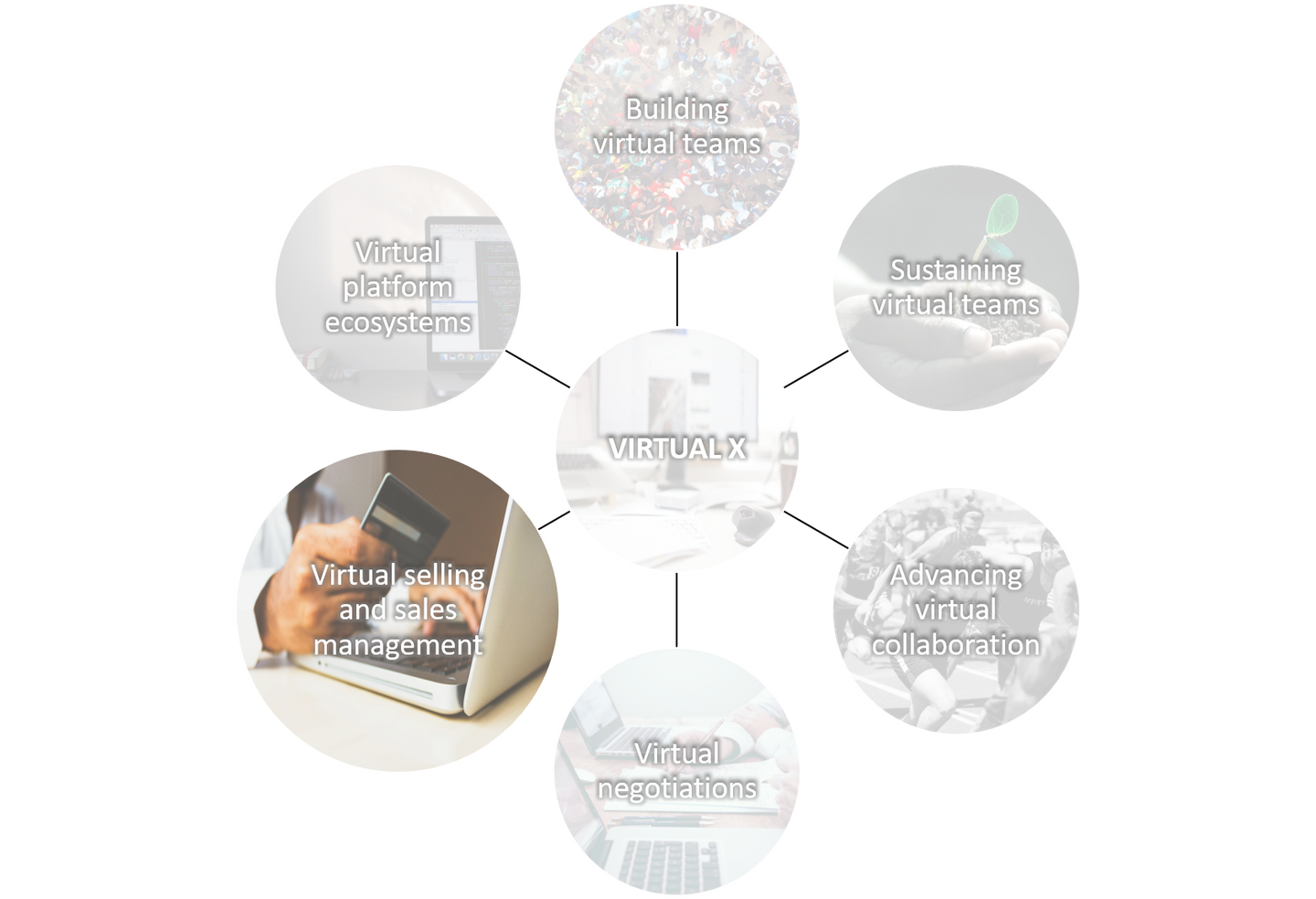 "Explore the three key trends which are transforming selling and sales management at an unprecedented pace."
Virtual Selling & Sales Management:
July 20th, July 22nd, July 24th,
When: 16:30 - 18:00
Where: Virtual X Suite - online
Prof. Dr. Johannes Habel
The University of Warwick
Digital Transformation of Sales Function
Sales Psychology
Prof. Dr. Florian Kraus
University of Mannheim
Sales & Services Marketing
Selling through digital communication
Get to know how you can accelerate trust and your sales cycle.
Learn how you get your customers attention and engage them in a virtual sales context.
Selling through digital channels
Explore ways how you gain the traction with your digital channel you are hoping for: Save time and focus on activities with greatest value.
Understand the future of e-commerce and platforms.
Selling through artificial intelligence (AI)
Learn what artificial intelligence is, how it works, and how far technology has progressed already.
Discuss best practice use cases and implications for your own company.
Virtual Selling & Sales Management: July 20th, July 22nd, July24th
This program will address how you overcome the challenges when using digital communication and sales channels as well as artificial intelligence for automation and analytic tools.

It will extend your sales management and selling skills in virtual settings.

Each of the three blocks demonstrate one key trend, which will be underlined by research-backed techniques and best practices for remote selling.
Top-notch instructors from the Digital Academy@MBS will share their leading-edge knowledge and experiences with you!
As the world continues to change in an unprecedented manner, the traditional ways of doing business must advance. That's why we decided to open virtual spaces and why we create exclusive content for you.

Experience a unique, discrete and enjoyable online learning space created and guided by our renowned thought leaders who will share their ground-breaking experiences and knowledge. Learn with and from peers. Engage in discussions that will empower you to exploit opportunities as well as to tackle the new challenges arising from the NEXT NORMAL.
Virtual Selling & Sales Management: July 20th, July 22nd, July24th